About Marshall Land Systems
Marshall Canada, operating out of Ottawa, Abbotsford and Moncton, provides military and commercial customers across Canada and internationally with a range of world-leading applied engineering services and product solutions with its core business divisions – Aerospace and Land Systems.
Marshall has a proud history spanning more than 100 years, during which it has delivered a wide range of ground-breaking engineering solutions across land, sea and air. It is this experience, coupled with the ability to be flexible, agile and responsive, that sets Marshall Canada apart from its competitors and enables us to tailor engineering services that meet a broad range of operational requirements.

​
Our people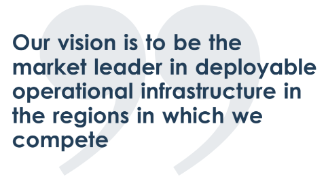 No matter which part of our business they belong in, Marshall people are special people who constantly strive to deliver outstanding results for our customers. We work hard to create a working environment in which everyone can thrive, from our youngest apprentice to our longest serving employees, we offer them support at every step of their Marshall career.
Why work for us?
What really excites and motivates Marshall people is our technical innovation, the fast-paced environment, the variety of opportunities available, and most importantly, doing a great job for our customers.
Our independence enables us to offer a real sense of ownership and involvement for everyone, and there is plenty of opportunity for those people who want to grow their careers as they help us grow our business.
Whether it's Engineering, Product Development, Finance, Marketing or any of the other disciplines that make up our team — our colleagues are making their mark around the globe. Talk to anyone who is part of our 'Marshall Family' and their sense of pride will come shining through. That's because we know that the results that we deliver and achieve together are helping to protect people in critical situations.