Back to blogs
From Manchester to Toronto: Warren's tips for relocating to Canada
Posted on January 2023
​

Warren Bennett
has been Vice President of Morson Talent in Canada since 2016.
Warren started off in recruitment in 2003. Throughout his career, he has travelled internationally, set up offices in Ireland, the US & Canada, and worked for a variety of companies.
In 2016, Warren accepted a position with UK-based recruitment company Morson to further develop and build its international presence in Canada and the US. This role would involve relocating his family to Canada, something Warren had no experience of. We spoke to him about his experience relocating with his young family and found out what his tips would be for ensuring a smooth transition to a new country.
Relocating the family
"I'd already had experience of setting up an office in Canada. At a previous company, I'd first set up an office in Ireland, doing a lot with electronics, and it made sense that I took control of their plans to expand to Canada. I flew over there with just a suitcase and a plan to build a business, and remember getting pulled in by immigration. I was a bit naïve, when they asked me what I was there to do I said 'I'm here to work', which definitely isn't the right thing to say! I think they thought I was trying to abscond, even though I had a wife and three kids back home. So that was my first lesson about working internationally."
"The blueprint for setting up the Canadian presence was basically the same as I'd done in Ireland 12 month earlier. I went through the start-up checklist, making sure it was all compliant. That's the key thing, making sure it's compliant to the particular state, province or country. Eventually this expanded out, and that drove me into all these different countries. Which was great, but from a personal point of view, at this point I've got Sam [Warren's wife] at home and the kids. I'm spending a week, a month in Canada about two or three days a month in the US. It was a bit like I didn't live at home for a few years."
This restless movement, with a young family, prompted Warren to make a career change. He saw Morson were advertising for someone to relocate to Canada permanently. Deciding that it was time for a more static approach to his working life, while not losing the international side of his role, he made the decision to apply.
"I wanted the kids to have more experiences, and what I really wanted was a company that would back me to move. I went for the first interview with Morson and I saw that I had my own named space in the car park. I thought, wow! These guys are a proper business. The interview went well, and I was offered either Ontario or California, working in conjunction with a major aerospace, electrical and transportation client of theirs. Canada made sense to me, I knew Toronto well and it just seemed to be the best fit for me."
With the move in mind, Warren faced the prospect of having to sell the move to his family.
"At this point Sam had only ever been to Canada when she was young, she didn't have the experience of living and working there that I did. I floated the idea and said the only way to stop me travelling is to get us travelling! So that sort of convinced her."



How do you relocate to Canada?
With the wheels in motion for the move, Warren and his family had to overcome the next hurdle – how to actually move to Canada.
"I got offered the job in the January of 2016 and started in March, but it took three months to get my work permit organised. It normally takes between three and six months. And then it was working out how to get all of us over and how to make sure they're all bought into the process as well. We flew over and got the work permit at the airport which meant we can go in and out of the country. And then I came back to the UK to organise my families move.
I got the process back to front a little bit. What I should have done is arrive, get mywork permit, and don't try and rent anywhere for a few weeks, stay in a hotel or AirBNB. You need to get your Social Insurance Number (SIN) sorted out and you need to go to a place called Service Canada to get that. You walk in with your work permit and they give you your SIN. Then, you take your SIN and your work permit to the bank, and they set you up a bank account. That takes about 24 hours. And then after that, you then need to make sure that you can transfer money to and from the UK. I used an app called Wise, which can transfer it within 24 hours."
Trying to buy or rent a property in Canada can be challenging, as Warren explains:
So you've got a problem when you come to Canada, because you have no credit rating whatsoever, you basically do not exist. It's like you're an alien landed from wherever. So, it's a bit difficult to get things. So, you must make sure that your employer gives you all the necessary stuff so - letters of employment, and your pay stubs are a must.
What I wasn't prepared for was the speed of which they transact over here. There's pressure. I was going to see houses that were going to rent and there were people walking in with 12 post-dated cheques. Deal done. And I wasn't prepared for that. I never realized it would be that aggressive. Because of the sheer amount of people of people coming to the GTA (Greater Toronto Area), we had make decisions quick. Landlords at the time and still now can pick and choose between who they want, to rent to, and the price. So, you've got to be really on the ball."
In summary:
Step 1: Obtain your work permit
Step 2: Head to Service Canada to be given a SIN number
Step 3: Set up a bank account using your work permit and SIN
Step 4: Head to Service Ontario to register for a health card
Step 5: Transfer your money from the UK to this new bank account
Step 6: Seek accommodation
Warren's relocation tips
1: Follow the above order of tasks to make things easier
2: Make sure you have employment evidence/payslips from your employer
3: Take money with you – you won't be able to set up a bank account right away. International cards can be blocked so have a backup plan.
​
Life in Canada
Once Warren and his family had moved, the next challenge became adjusting to life in a new country.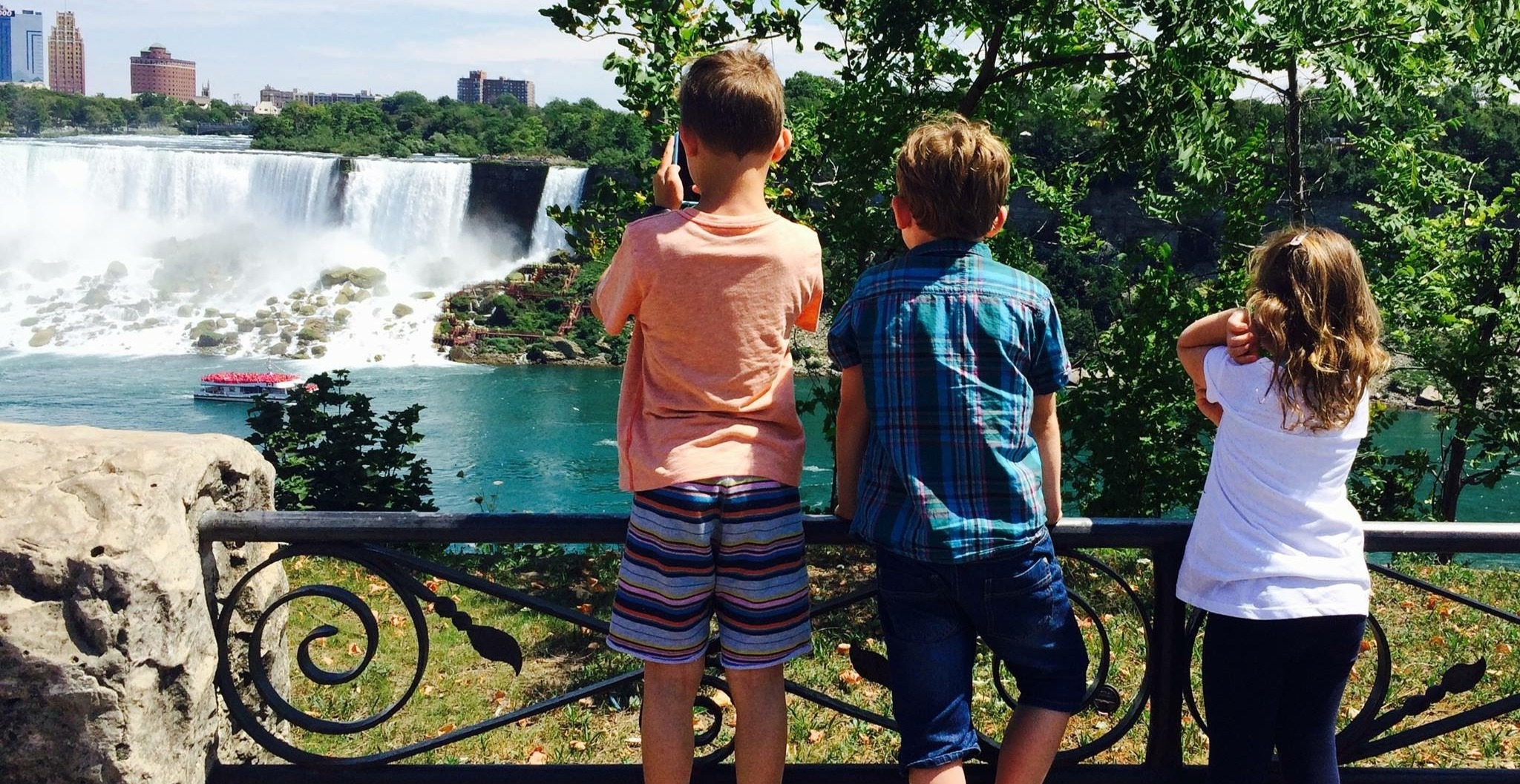 "I realise not everyone will have this but having someone in Canada to essentially look out for you and offer advice is useful. The first person I met over here was a guy called Peter, who worked for another recruitment company owned by one of [late Morson Group founder] Gerry Mason's friends. He was like my guardian angel for the first six months of being here. I could call him up and ask him about how things worked."
Making such a big life move with three young children may have been daunting to Warren and Sam, but the children settled very quickly to their new lives:
"The best piece of advice I could give to any parent relocating to Canada with young children, is never stop your kids from blending in. In terms of language, accent, words used – young children are extremely malleable at a certain age, and spending time with predominantly Canadian children will mean they pick up mannerisms, accents, and words. Your kids will adjust to the environment a lot quicker than you will. I never pull my kids up on the words they use or how they talk. That's important. Let them fit in."

"The kids in Canada seem more confident. I remember that I never did a presentation in school ever, until I got to university. I remember being 18 and having to present my arguments on contract law and I'd never stood up in front of anyone in my life. My kids are now taught this from a young age, so 5-6 years old. They're doing presentations and they're just more confident in the way in the way they thought.
Whatever area you drop into, that's the school they go to. There's no choice like the UK used to be so and most of the schools are good. They start school at a later age here as well. They finished school at 18 over as well. And then then they go to university. . The pace of learning is very different."
Warren and the family found it easy to assimilate themselves in Canada, finding a friendly and welcoming reception.
"When we first moved over, we landed there with kids and the amount of friends that we made straight away was amazing. Sam went shopping and met someone in a store and within a week we were at their Christmas party! We were invited to a wedding within a few weeks, generally the Canadians are very open and welcoming."
The move isn't without some negative points:
"You do miss people, your family and your friends, that's the worst bit. When it comes to Christmas, that's when you feel it most. So you've got to put a plan in place of how you deal with certain events, like how you're going to deal with birthdays that you're going to miss. Everything else is fine."
Warren's tips for living in Canada
1: Prepare
2: Assimilate – let yourself be absorbed by the culture
3: With kids, let them grow and develop naturally as citizens of the country
Working in Canada
Warren realised pretty quickly that the pace and pattern of working life is different that what he was used to in the UK. He offers some advice about how to deal with this:
"Assimilate yourself, take the best bits of you to the new place, like the drive you get out the UK businesses. Try and keep that drive, but just adjust it to work in Canada. It's a different pace of life and if you fight every day and resist the culture, it's not going to work.I learned that the hard way in the first 12 months. I used to rock up every day in a suit. In 2016, everyone in the UK wore suits the office, so I used to go to the office every day in a suit. Do you know how many other people were a suit every day? It was just me. Eric [Goodman, VP] asked, why are you wearing a suit? And I'm like… I don't know!"
Working for a UK-based company from abroad also presents challenges in terms of communication and timezones:
"So, I think we're in a really good time zone. The East Coast is easier because West Coast serves up more problems because there's no overlap. We've got overlap with the UK in the morning, so all my UK calls are crammed into that time. So, you just structure your day. Keep the mornings free for UK stuff, and the afternoons free for US and Canadian stuff, and that's a good system.
I always say that to when people come over, there's a lot of Facebook groups and meet up groups and it's just about getting involved as much as you can.
Also understand, there's a process - hold your frustration, seek advice and go with it!"
We have a wide range of roles available for candidates looking to relocate to Canada, and we'll be with you every step of the way in making your move as easy as possible. Contact
info@morsoncanada.com
for more information, and search our latest roles
here
.